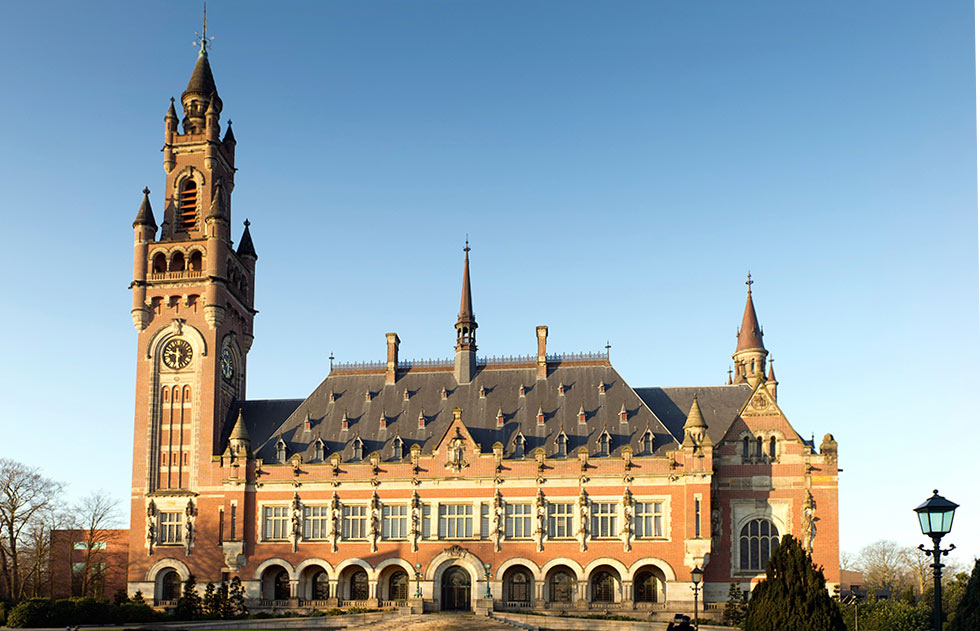 The International Court of Justice (ICJ) is the principal judicial organ of the United Nations. ICJ was established in June 1945 by the Charter of the United Nations and began its work in April 1946. Unlike the other principal organs of the UN which are all located in New York, the Peace Palace in The Hague (Netherlands) is the seat of ICJ. The official languages of the Court are English and French.
Article 2 of ICJ's Statute provides: "The Court shall be composed of a body of independent judges, elected regardless of their nationality from among persons of high moral character, who possess the qualifications required in their respective countries for appointment to the highest judicial offices, or are juris consults of recognized competence in international law."
As per Article 3 and Article 13 of the Statute of the Court, ICJ consists of 15 judges with different nationalities who are elected for terms of office of nine years by the United Nations General Assembly and the Security Council. The judges shall be independent and shall be elected regardless of their nationalities from among persons of high moral character. They also need to be expert and reputable in the field of International Law.
In accordance with paragraphs 2 and 3 of Article 31 of the Court's Statute, a State Party to a case brought before ICJ which does not have a judge of its own nationality on the Bench, may choose a person to sit as an ad-hoc judge in that specific case under the conditions laid down in Articles 35 to 37 of the Rules of the Court. Furthermore, this point needs to be taken into consideration that the ad-hoc judges do not necessarily have to be nationals of the states that designate them.
By: Dr. Parastou Esmailzadeh
Attorney at Law, PhD in International Law, Head of International Trade Law Department
https://www.dandk.ir/en/wp-content/uploads/2022/02/home.jpg
631
980
Admin
https://www.daadandkherad.com/en/wp-content/uploads/2018/07/Logo-header.png
Admin
2022-02-05 12:30:02
2022-02-05 12:30:02
ICJ Explored! (Part One)